A Dedication to Excellence That Has Remained Constant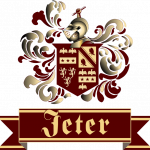 Jeter Memorial Funeral Home

Sign up for updates on new obituaries

Funeral Arrangement Forms
We have compiled a few forms which may help you during your time of need. They also will better help us to prepare for your loved ones burial arrangements. These forms are in adobe acrobat format and can be viewed using acrobat read which is available as a free download at:
http://www.adobe.com/products/acrobat/readstep2.html
Veteran Benefits Explained
Veteran Benefits & Services Web Site
Life Insurance Protection:
Almost every family provider feels obligated to have adequate life insurance. Speak with any knowledgeable life insurance agent, and he will advise you on the types and coverage available. Please put your policies in a safe place, and notify your beneficiaries of where they are located. It is also important to speak to your attorney or banker, and set up a special fund to handle the transitional stage between the time of death, and the time the insurance is paid. There are many times that your bank accounts and safe deposit boxes will be "frozen" until your estate is settled.
Everyone should have a will, regardless of the size of your estate. Make an appointment with your attorney, and have him prepare a will for you. Once you have your will prepared, be aware that every few years, you and your attorney should get together to make sure your will is up to date. A properly prepared will enables you to direct the administration of your affairs after death. Should you die in testate (without a will), your property and holdings will be distributed according to your state laws. An administrator will be appointed by a court, and that person may not handle things as you had planned.
One of the most important concerns when drawing your will is to name your executor. It is that persons responsibility to see that the provisions of your will are carried out. Your executor should be someone with experience and a "seasoned" judgment to make the right decisions.
Reduce your Estate Taxes:
A competent attorney or estate planner can advise you on specific methods of reducing your estate taxes. These taxes can be a great burden on your survivors, and they will appreciate your forethought on careful planning. These plans can prevent your beneficiaries from having to hastily sell the family home or business or other primary assets at an unfavorable time. Depending on your situation, you may find it to your advantage to adopt other legal forms of ownership, other then joint tenancy. Again, your attorney will be of great assistance in these matters.
Perhaps you are among those who would benefit from placing part of your estate in a trust fund. Most bankers will be glad to give you advice on setting up a trust. Tax laws are constantly changing in regards to trust, so consult your attorney or tax advisor before making any final decisions.
311 N. Friendswood Dr.
Friendswood, Texas 77546
281.992.7200
311 N. Friendswood Dr.
Friendswood, Texas 77546
281.992.7200