A Dedication to Excellence That Has Remained Constant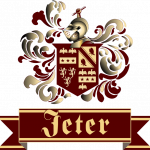 Jeter Memorial Funeral Home

Sign up for updates on new obituaries

Until the 20th Century most caskets were constructed of wood. They were built one at a time by skilled cabinet and casket makers in almost every town throughout the country. Besides wood, caskets are now manufactured in bronze, copper, stainless steel and various gauges of steel by national manufacturing companies.

Hardwood caskets are the choice of families who appreciate and cherish the qualities of natural wood. The warmth, beauty and personality it brings to fine furniture makes it ideally suited for the construction of quality caskets. Hardwood caskets are available in a variety of species, including Mahogany, Walnut, Cherry, Maple, Oak, Poplar, Pecan as well as Pine. As with furniture, the species of wood used will affect both the appearance and cost of the casket.

Manufactured and tested to be completely resistant to the entrance of air and water, bronze and copper caskets combine lasting protection and beauty. Many families choose bronze because it is superior to all other casket materials in strength and durability. However, both bronze and copper are completely safe from rust. A selection of a bronze or copper casket is a decision in which great pride can be taken being assured the selection has been made from among the very best caskets available.

Steel caskets came about when demand for a protective casket that would completely resist the entrance of air and water. Steel caskets provide affordable protection, exceptional beauty, and quality. Chromium and nickel stainless steel caskets offer a material naturally corrosion resistant. Steel caskets vary in price according to the gauge of the steel. Most steel caskets are offered in 16, 18 and 20 gauges. Most of these caskets with the exception of some 20 gauge caskets are equipped with a one-piece solid rubber gasket. This gasket forms a highly effective seal between the top and bottom of the casket to prevent the entrance of all outside elements.
Bronze and Copper:
Non-Rusting
Naturally non-rusting materials
Finest material & construction
Most durable materials; however bronze is stronger than copper
Most statues & monuments are constructed of either bronze or copper
Wood:
Natural Warmth & Beauty
Hand crafted like fine furniture
Unique graining patterns
Available in a variety of species
Stainless Steel/Steel:
Rust Resistant Steel
Rust resistant material
Available in different grades
Premium Grade – Chromium & Nickel
Basic Grade – Chromium

Selected grades recommend enhanced exterior:
Different thickness of steel
Thickest – 16 Gauge
Medium – 18 Gauge
Thinnest – 20 Gauge
Selected styles available with protection enhanced exterior protection

For information concerning our General Price List showing our itemization of goods and services and the casket, vault or urn information, a free consultation is available by our firm in either our office or your home.
311 N. Friendswood Dr.
Friendswood, Texas 77546
281.992.7200
311 N. Friendswood Dr.
Friendswood, Texas 77546
281.992.7200