A Dedication to Excellence That Has Remained Constant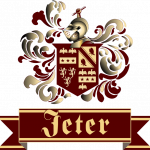 Jeter Memorial Funeral Home

Sign up for updates on new obituaries

Funeral Arrangement Forms
We have compiled a few forms which may help you during your time of need. They also will better help us to prepare for your loved ones burial arrangements. These forms are in adobe acrobat format and can be viewed using acrobat read which is available as a free download at: http://www.adobe.com/products/acrobat/readstep2.html
Why Pre-Need Funeral arrangements are best...
It Relieves Your Loved Ones From Worry
Your family and friends are spared the burden of making difficult decisions at an emotional time.
Your vital information is carefully organized and kept with your complete memorial guide.
Your loving concern is apparent to all.
You are provided with the time and information to decide the services you prefer.
You determine the arrangements and costs in advance.
It Provides Cost-Effective Planning
You are protected from inflation and can realize significant savings on funeral costs.
You may choose your own affordable payment plan.
An Insurance Plan that enjoys favorable tax treatment funds your investment.
For more information or to set an appointment, please call us at 281-992-7200.
Protect yourself with Preneed Insurance in case the need arises before it is expected.
Pre-Plan Funeral Arrangements:
We at Jeter Memorial Funeral Home in Friendswood feel honored to have served the families in our community for 31 years. In our effort to provide you and your family with superior service at reasonable prices, we feel it's important for everyone in our community to know what their options are prior to the loss of a loved one.
Planning is an important part of everyday life. Planning final arrangements are just as important because we know how much easier it is on a family when prearrangements have been made. You may record your wishes, personalize a service that reflects your life, freeze the cost at today's prices and most importantly, have peace of mind knowing that your loved ones will not have to make these decisions at a very difficult time.
*Would you like to control the cost of your funeral? Call us to talk about your options; there are more than you might think.
*Would you like to make your arrangements during a time of peace and good health and not leave difficult decisions to your loved ones during their time of grief?
Please contact Jeter Memorial Funeral Home to answer any questions you might have or we would be happy to make an appt with you. We can be reached at (281) 992-7200.
You can find more information at: http://www.prepaidfunerals.texas.gov
311 N. Friendswood Dr.
Friendswood, Texas 77546
281.992.7200
311 N. Friendswood Dr.
Friendswood, Texas 77546
281.992.7200